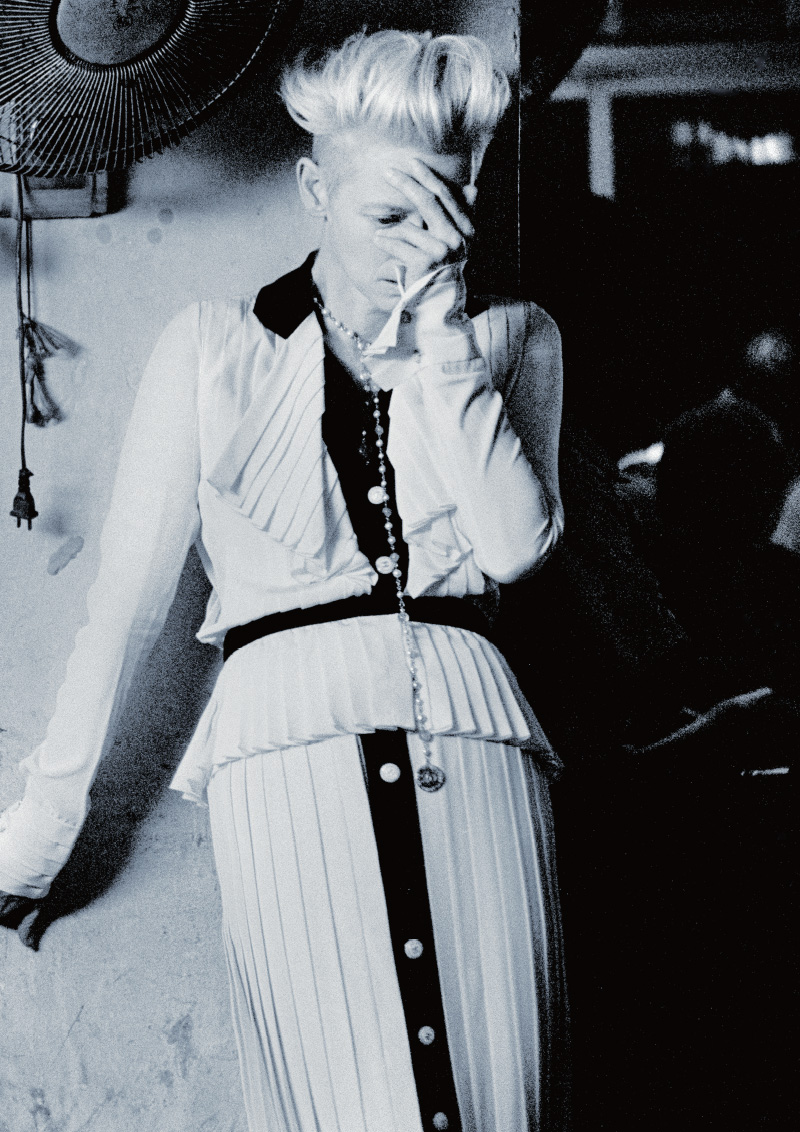 On the deck of a yacht on the Huangpu River, Tilda Swinton moves her arms as if practicing slow motion tai chi. Dressed in a nautical striped tunic and voluminous white pantaloons, the actress contorts her body into striking angles against the backdrop of Pudong's skyscrapers. Her peroxide hair is cropped and spiked, her facial expression blank. For those watching, the effect is mesmeric. Later, photographer Wing Shya likens the moment to "an opera".
Swinton, who is 52, is not a woman who is simply classified. Of course she's an Academy Award-winning actress, and today she is performing in a short film by the cinematographer Christopher Doyle. She has appeared in big budget Hollywood movies, such as The Chronicles of Narnia: Prince Caspian and The Curious Case of Benjamin Button. But for the much of her career she's opted for roles in small, independent productions. Notably, she made seven films with the late arthouse director Derek Jarman. She's also the darling of indie director Jim Jarmusch and stars in his upcoming film, Only Lovers Left Alive.
It would be equally true to call Swinton a performance artist. She infrequently participates in public art displays, such as The Maybe, an ongoing project in which she lies in a glass case, sleeping or occasionally moving, as spectators swarm around. She is also a sometime political activist. In July, in support of Russia's LGBT community, she released a photo of herself brandishing a rainbow flag in front of The Kremlin. The accompanying note read: "In Solidarity. From Russia with love."
To fashion designers, though, she is a muse. Most recently, she has fronted Chanel's Pre-Fall collection in a campaign shot by Karl Lagerfeld. "I think I was very good casting for it," Swinton says, unabashedly. It is a hot summer day, and Swinton is taking a break from the shoot on the terrace of a restaurant overlooking Shanghai's Bund. She looks casually chic in loose navy polka dot trousers, a black shirt and red-framed Chanel sunglasses.
With her freshly churned cream skin and penetrating grey-green eyes, Swinton is often described as looking otherworldly. Her friend, the photographer John Shand Kydd has suggested she can look like Marlene Dietrich one minute and Gollum the next. But at certain angles she could double as a figure in Baroque painting. Indeed, Jarman cast Swinton in Caravaggio, her breakthrough film role, because of her close resemblance to women in the painter's work.
Swinton chooses her words conscientiously: hers is a clipped English that masks any trace of her Scottish ancestry. Yet this heritage is partly what drew her to the Chanel campaign. "The particular nature of that collection is really natural for me because it's Chanel combined with Scotland, which is where I came into my understanding of Chanel, through people like my grandmother and her twin set," she says.
In the photos, Swinton is draped in heavy velvets, brocade and reams of tartan: in one shot she looks like a trussed-up Tudor queen. "Karl Lagerfeld is very much of the 'three frames will do' school, so I was a little concerned that we didn't really have the material," she continues. "We got all done up, we got in front of these amazing tapestries, and Karl set up the camera and clicked the shutter a maximum of five times and we moved on. So I was amazed when I saw how beautiful the photographs are. I think there's something very natural and organic about the combination of factors and the Scottish atmosphere felt very easy."
Katherine Mathilda Swinton was born in London in 1960. She comes from a lineage of distinguished Anglo-Scottish nobility with roots traceable to the middle ages. Her upbringing was privileged, if unsettled as she spent her childhood in various boarding schools in England, at a distance from her family. (At one time she was the classmate of Lady Diana Spencer, the future princess). She was a bright pupil who went on to study at the University of Cambridge. There she briefly joined the Communist Party, abandoned the idea of becoming a poet and started performing in theatre productions.
In the mid-1980s Swinton met Jarman, who was also a friend of Christopher Doyle. "In general, it was an optimistic period for so-called independent filmmaking and for people to express their ideas through film," says Doyle. The three would meet at art festivals, and shared "a mutual energy and excitement about the possibilities of what we were doing". Based in Hong Kong for much of his career, Doyle went on to work with many stalwarts of Asian cinema: Zhang Yimou, Chen Kaige and, famously, on many films with Wong Kar-wai. Swinton remained based in the UK. Today she lives in the Scottish highlands with her adolescent twins and her partner, the painter Sandro Kopp, who is 18 years her junior.
Doyle and Swinton never lost touch, even working together in 2009 on the film Limits of Control. "It's like a conversation interrupted," says Doyle. "In terms of friendship, we keep in touch, we email, but not every week. Of course that's great but [our friendship] is deeper than intimate. In Chinese you say 'guo lai le', which means 'going through something'. Having lasted this long in what we do, there's obviously something basic to how we are that we share." Doyle says he has always admired the artistic choices Swinton makes, including the way she devotes herself to each project. "I think that hasn't changed," he says. "She's made films of a more popular nature, but she hasn't given up any of the authority that she has over her choices, or the integrity of what you can see. Look at her presence, look at the way she holds herself. She's never sold out."
While in recent years Swinton has taken roles in more mainstream films, she has never shied away from taboo. In 2011 she both produced and starred in We Need To Talk About Kevin, a harrowing adaptation of the book by Lionel Shriver about a woman whose difficulty in inhabiting her role as a mother carries horrific consequences. In I Am Love, a 2009 Italian film directed by Luca Guadagnino, she plays Emma Recchi, the stifled matriarch at the head of a lustrous Italian family, who has a sexual and spiritual awakening in the arms of her son's friend.
For directors, designers and photographers, Swinton's ageless androgyny presents a rare treasure: the living tabula rasa. Yet she retains bucket loads of what Doyle describes as "presence". "I think it's more than beauty," says Wing Shya, the Hong Kong-based photographer who is today shooting Swinton. "Models will consider the clothes, they will pose, find an angle. Actors don't care [about looking good], when they wear something they show character: they say 'this is who I am'. Tilda transforms the clothes when she wears them. I feel like it's spiritual, the power, it's a feeling."
Back in the Bund restaurant, Swinton is readying for her next scene. Carefully arranged on a side table is an array of Chanel accessories: dazzling diamante cuffs, antiquated pearl broaches and a pair of delicate black leather gloves. Swinton pulls on a bushy black and white feather coat. As the camera rolls she moves her upper body to exhibit the feathers like a proud swan. The shutter on Wing's camera clicks continuously. Later he says: "Every movement tells you something, even when she doesn't look at you. And when she does look at you, through that contact she's telling a story. It's like you're watching a play on the stage, but it's that close. Every pose is a performance. It's like an opera."
Swinton herself professes a disinterest in fashion. "I suppose on a rather banal level I'm interested in the concept of style," she says. "But I'm not an educated stylist, I don't have a PhD. I'm just as interested on how any piece of clothing will look on anybody." Her connection to the fashion world, she says, isn't through the clothes. "It's more a connection to the kind of play I've found with friends involving clothes," she says. "So that can mean photographing moments like we just did with people like Chris who I've known for years, or working alongside a designer like Haider Ackermann."
What excites Swinton is the "playful aspect" of art, whether film, writing or fashion. She approaches new roles with an almost childlike inquisitiveness. Last autumn at the Palais de Tokyo in Paris, she participated in a 40-minute catwalk performance called The Impossible Wardrobe. Dressed in a simple white robe, akin to those once worn in the couture salon of Yves Saint Laurent, Swinton presented the audience with articles of costume from the archives of the Galliera Museum. Rather than wearing the pieces, she displayed them in whatever way the cut of the cloth suggested to her. This included twirling with a Madame Grès dress or grasping a coat that once belonged to Napoleon Bonaparte firmly by the shoulders.
Swinton's approach to the red carpet is similarly whimsical. At last year's Golden Globes she wore an ice-blue skirt suit, her bleach blonde hair fashioned into a wavy Tin Tin quiff. In May, at the Cannes Film Festival, she attended the closing night ceremony in a made-to-measure sparkling bronze trouser ensemble, completed with scarlet lipstick.
Both of these outfits were designed by Haider Ackermann, another old friend of Swinton's. In recent years she has worn his creations so frequently as to become almost synonymous with his elongated, sculpted silhouettes. "It's easy to see why so many people are suddenly devout Ackermann-heads: the clothes are built for action", Swinton once wrote in Interview magazine. "[His pieces] are impeccably tailored and fastidiously constructed but also romantic and sensual, and play with the notions of both fashion-as-armour and undressing-as-revelation. And they are undeniably sexy, but sexy in the sense that they keep you on your toes and seductively reel you in." Ackermann himself has said that he is "honoured and flattered" that Swinton wears his designs.
In a dingy mahjong parlour down an alley of Shanghai's Old Town, Swinton is playing dress up once again. It is the shoot's final location, and the city is embracing the beginnings of a sticky summer night. Inside, couched in clouds of stale cigarette smoke are dozens of locals embroiled in petty gambling. Few glance at Swinton, who is now dressed in an elegant nude pleated skirt suit with black trimming. She stands behind a pillar and, as the camera rolls, she glances furtively over her shoulder, playing the starlet hiding from a pack of paparazzi.
If Swinton does ever feel anxious about being in the media spotlight, she doesn't let on. In her fifties she's as confident about her appearance as she ever was, she says. "Apart from having less hair, I don't look that different from when I was 17. And I think I probably dress in a similar way. I mean I literally wear clothes I've been wearing since I was 17. I'm pretty repetitive and unimaginative when it comes to dressing myself."
Rather, the actress confesses to being "very interested in pyjamas, generally".  "Any version of pyjamas will do me," she says, laughing. "And a Breaking Bad box set when in Shanghai and jet lagged. It's to be recommended."